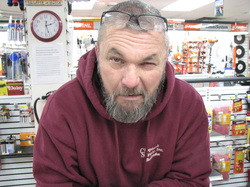 Pat Collison
Pat is a "native" to Denton, and spends most of his time here in Caroline County. Pat's father owned an outboard motor shop and provided Pat with instruction on repair, which has been beneficial to our rental and service center. Pat has been in the retail field for almost 20 years. He has also owned and operated a music store here in Denton as well. He is well regarded in the community and brings a humorous character to Choptank Supply. However, being an avid golfer Pat tends to put his game face on when it comes to playing a round of golf.
---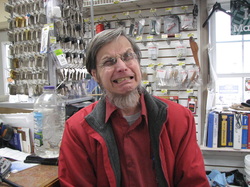 Keevin Osterman
Keevin is a staple to the community of Caroline County. Keevin has been working in the hardware business for over 40 years. He has a plethora of knowledge in the hardware, lumber and millwork area. Keevin continues to pass his knowledge onto not only the employees but customers as well. Keevin's nickname is "Amish" partly because of his appearance and partly because of his craftsmanship. He has been commissioned to do replica work for the historical society.
---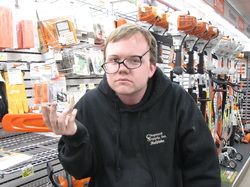 Logan Blough
Logan is a Senior at North Caroline High and plans to attend Delaware Tech upon graduation. He has been working at Choptank Supply for a few years and has proven to be a valuable asset to the team. Logan is hardworking and devoted to helping customers. Even though he is a Steelers fan our Ravens customers still accept him as one of their own.
---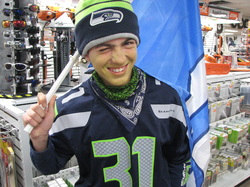 Frederick Bradbury
Frederick is the latest fool to our team. He attends Saints Peter and Paul School in Easton and is an avid history student. He plans to attend college to become a history professor. Frederick is learning the ropes and realizes hardware and such is no easy task to learn. He is committed to helping customers find what they need when they come into Choptank Supply.
---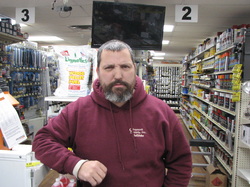 Fred Bradbury
Fred has been here in Caroline County since 2000. Fred is the epitome of a "chicken necker". He tries to fit in as a native but his overwhelming desire to read books, travel outside of the states, drink Starbucks coffee and drive economy cars holds him back from being an eastern shore native. However, he enjoys this community and communicates well with everyone. Fred has been in the hardware business for over 20 years. He his committed to encouraging all the residents of Caroline County to walk through the doors of Choptank Supply.
---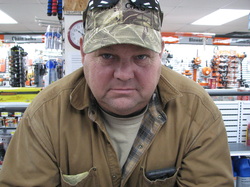 David Blough
David has been a resident of Denton all his life. Most people know him as "Tater". David owns two businesses, Choptank Supply and Choptank Excavating. Like all small business owners David's goal is to create jobs and services that are competitive and supportive to the community of Caroline County. He knows the negative aspect of having only one business in a town, "monopolizing" the residents. David loves boating up and down the Choptank river, however, what he really enjoys is other boaters ambushing him with water guns. So feel free to yell "we love you Tater" as you drench him and his companions on the river.
---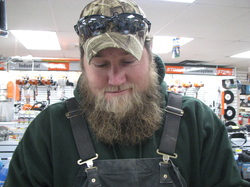 David Blough Jr

David has been and probably will always be a Caroline County dweller. David immerses himself in all the endeavors he handles. He primarily oversees Choptank Excavating, however you can count on David's assistance here at Choptank Supply. He works hard and follows through on his duties, despite his laid back appearance and questionable arrival time. Although he is an avid hunter, and spends many mornings in the woods, his lack of targeting "game" causes him to spend many evenings buying packaged "game" in grocery stores.


---